About Bindo POS
Bindo is cloud-based iPad POS solution that facilitates online shopping for the end consumer through the Bindo Marketplace. Bindo has integrated social CRM and Loyalty Program built in that allows the merchant to engage with the customer post-sale. The app also has a real-time analytics dashboard that allows for better business decisions and smarter inventory management. We have robust APIs that support 3rd party apps, including eCommerce channels, and Quickbooks and Xero integration.
One of the more interesting features is the Bindo Marketplace. Essentially, we aggregate stores using our POS onto a mobile app, and allow the consumer to purchase directly from any store on our platform through the Bindo Marketplace iPhone app. In the near future, we will also support same-day delivery, providing a true one-stop retail solution for all merchants, that encompasses many different commerce channels
Key benefits of Bindo POS
The CRM system helps the merchant provide a personalized experience to every customer.

Integrated loyalty program and CRM systems allow the merchant to engage with the customer post-sale, and to send promotional offers and targeted marketing, as well as to sort customers by highest-spending or most frequently returning.

Real-time analytics allow the merchant to see a higher level of data, enabling smarter business decisions and better inventory management

O2O (online to offline) technology allows for mobile commerce, eCommerce, and in-store transactions to happen on only one platform, the iPad POS.

Bindo SST (Simple Scan Technology) allows the merchant to scan an item and have the information populate automatically.
Typical Customers
Freelancers

Small Businesses

(2-50)

Mid-size Companies

(51-500)

Large enterprises

(500 and more)
Supported Languages
English, Traditional Chinese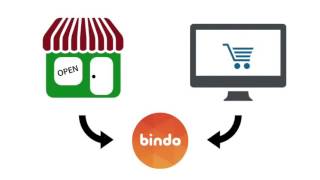 Total features of Bindo POS: 58
API
Activity Dashboard
Activity Tracking
Barcode / Ticket Scanning
Billing & Invoicing
CRM
Cash Management
Client Management
Commission Management
Credit Card Processing
Customer Accounts
Customer Database
Customer History
Customer Segmentation
Customizable Reports
Data Synchronization
Data Visualization
Discount Management
Electronic Signature
Email Marketing
Employee Management
Gift Card Management
Inventory Auditing
Inventory Management
Invoice Management
Loyalty Program
Mail Order
Manufacturing Inventory Management
Mobile Access
Multi-Location
Order Management
PCI Compliance
Point of Sale (POS)
Product Catalog
Product Identification
Purchase Order Management
QuickBooks Integration
Real Time Analytics
Real Time Reporting
Real-time Updates
Receipt Management
Reporting & Statistics
Reporting/Analytics
Retail Inventory Management
Returns Management
Sales Orders
Sales Reports
Sales Trend Analysis
Search/Filter
Secure Data Storage
Status Tracking
Stock Management
Supply Chain Management
Time Clock
Transaction Monitoring
User Management
Website Integration
eCommerce Management
KORONA
#1 Alternative to Bindo POS
KORONA POS software provides an advanced solution for retail stores, ticketing services, wineries, and QSRs. KORONA...
Odoo
#2 Alternative to Bindo POS
Odoo is a fully-integrated, customizable, and open-source suite of business applications. A majority of the business...
WooPOS
#3 Alternative to Bindo POS
WooPOS -- Point of sale and inventory management for WooCommerce and Shopify. Fit businesses for up to 1000 employees...
LS Retail
#4 Alternative to Bindo POS
A unified commerce software solution (ERP + POS) built on Microsoft Dynamics technology that is ideal for retailers,...
---
Already have Bindo POS?
Software buyers need your help! Product reviews help the rest of us make great decisions.
Showing 5 reviews of 148
Industry: Apparel & Fashion
Company size: 11-50 Employees
Used

Daily

for

2+ years

Review Source
Overall rating
Value for Money

Ease of Use

Customer Support
Great System with some Bad Updates with No Time Frame to be Resolved
Reviewed on 03/05/2018
Pros
The layout for processing sales and invoices is great and easy. We do not have a very tech-savvy staff and they were able to quickly learn the software, even with its various updates and changes. The receipt layout is great with the barcode at the top, it makes it easy to pull up sales quickly. The software has really helped to better manage our inventory. I love the ability to affiliate specific customers to inventory items so we can track trends. The integration with Mail chimp is awesome as we are able to send mass emails to our customers to let them know about various events in the store. The matrix feature for the inventory is great as well. I love the all of the reports and the inventory management. The customer service team is very efficient if there is an issue and are always friendly and readily available.
Cons
I researched several POS systems before we chose Bindo, I thought Bindo had all of the features we needed for our small business and more. After several years of using Bindo a couple of updates were launched some were great and others were not beneficial to us. The updates often times took away features that we had liked. When I had called to investigate if this was something that was going to be corrected, there was never a time frame for when it was going to get resolved. The customer service team is always very helpful, nice and assured me that the developers were working on it. I know that no system will be perfect for everyone and with technology there are always issues but certain features just got worse and the software has gotten harder for my sales staff to use. My sales staff are not the most tech-savvy and prior to the updates they were excited and embraced the software and after a couple of bad updates they are not eager to use it. I am getting a lot of complaints by them about certain issues that I have to keep assuring them that the developers are working on. Simple features like the ability to print a quote on the receipt printer or changing the associate on a sale after it is paid or showing the balance owed by the customer on a partially paid invoice are not possible. Our lease is ending in November and I am sad to say that we will probably be leaving the Bindo Family. I still love Bindo and hope that some things change before we need to make a decision.
Industry: Retail
Company size: 11-50 Employees
Used

Daily

for

2+ years

Review Source
Overall rating
Value for Money

Ease of Use

Customer Support

Likelihood to recommend

5.0

/10
Pretty good but still a work in process with both good and bad points.
Reviewed on 26/04/2018
Ability to track inventory while using the POS system. Relatively easy to use POS system. Didn't...
Ability to track inventory while using the POS system. Relatively easy to use POS system. Didn't require a full computer system purchase to run in our two stores.
Pros
Easy to use for most sales transactions. Can do many other things that are important to us - gift cards, customer accounts, suspended sales, quotes. Most of the reports that we use can be imported into an Excel spreadsheet where we can do most of the analysis that we need to assess our sales transactions.
Cons
Several primary generated reports treat sales on discounted merchandise as if there were no discount applied. Discounts are listed separately and have to be manually calculated or estimated - totally at odds with accepted accounting principles as well as Federal, state, county, and city tax rules. We have to rely on receiving a monthly generated report specially delivered to us at the end of each month. Additionally, the numbers do not always agree from one report to another and we often cannot figure out where the discrepancy comes from. In the 27 months we have been using it, our monthly bookkeeping reports has only balanced twice. With our old system, being out of balance twice in two+ years would have been remarkable. Also, we have continually struggled with label printing issues regularly (though this may be more a hardware than software issue with the Bindo supplied machines.)
Used

Daily

for

2+ years

Review Source
Overall rating
Value for Money

Ease of Use

Customer Support
It's a love hate relationship, but for the most it's a good POS
Reviewed on 03/05/2018
Pros
Our inventory management, product creation, category, allowing to input specifics. I love the loyalty reward program available. Helps us build a better connection with the customer as to what they like, prefer, may want.
Cons
Okay, I'll try not to be too harsh but I want to be specific. The glitching, software update or any updates not to be reserved for Friday's and Saturday when it's busy. Customer want to view the items they purchased, but not with the cost price... would really appreciate is we can select by dates see the items and have no other specific information, many times customer feel the need to see all the items but this way it will show cost price the only way is selecting transaction per transaction which you may understand becames tedious. Transaction with Swipping EMV and manual imput, can really pinpoint what's the incongruency but each of our iPads 3 run differently some don't swipe other just EMV so far we just deal with it but it's annoying, last mindful thing... the printer for over a year we were promised all iPads can print receipts after installing a new 300 printer and new modem,,. Yet still only one iPad has the availability to print... anyway overall we appreciate Bindo and thank you for taking the time to ask us our opinion.
Used

Daily

for

2+ years

Review Source
Overall rating
Value for Money

Ease of Use

Customer Support
Mostly positive but have had a few issues.
Reviewed on 30/04/2018
Pros
When we need help the people are friendly and try to help us with our issues. It has been more stable lately.
Cons
It does not have a few features that we need ie we sell lottery tickets and need to be able to do payouts that show up as a negative in the daily sales summary report. Also they have been promising us a new emv card reader that complies with the chip cards for 3 years and we still do not have one. Also when they have internal errors we can't process credit and debit cards. When they update they do no inform us before or explain the updates very well when we notice them. Sometimes it is hard to get help when we have an issue. We are at the end of our contract and now we are having some hardware issues. The handheld scanners will not hold a charge and have to be hooked up to the cable at all times. We cannot charge with the scanners in the cradles anymore. One of the cables had to be replaced. Bindo seems to cater restaurants more than retail stores. I do not like the new menu set up. It was much easier to add pictures of products and update the product on each page when we could just hold our finger on the product and change or delete it. For us it is not very user friendly anymore.
Industry: Retail
Company size: 2-10 Employees
Used

Daily

for

1+ year

Review Source
Overall rating
Value for Money

Ease of Use

Customer Support

Likelihood to recommend

8.0

/10
Very Good Low Cost Option
Reviewed on 26/03/2019
For what we were doing, yes there were some limitations, but it enables us to run our store. Once...
For what we were doing, yes there were some limitations, but it enables us to run our store. Once you figure out what it can and can't do, you can run your store without any problems. We had a store front already set up on WooCommerce and Bindo enabled us to open our physical store front. If you were doing this backward thank how we did it, Bindo has even more integrations to help you run that. I am very pleased with the way it works. I do wish that you would be able to do everything from the PC or the app side for everything, but again once you figure that out you are great to go!
Pros
I was mostly impressed with their customer service. Being a smaller operation, I was always able to hear from a couple of the individuals working there. If I have a question, I always hear back from them quickly.
Running the POS is very easy after it is set up. Took it to a few shows that we did and had no problems at all!
Cons
I think the biggest issues relate to syncing with WooCommerce. Sometimes it wouldn't import the item correctly or if there were variations on an item it wouldn't handle it correctly. You could just call the support and they'd fix most things. I would also have some random products multiply themselves in the inventory if one of them sold. I would just delete those and verify the inventory quantity.
Bindo POS FAQs
Below are some frequently asked questions for Bindo POS.
Q. What type of pricing plans does Bindo POS offer?
Bindo POS offers the following pricing plans:
Starting from:
Pricing model: Free Version, Subscription
Free Trial: Available
Pay $149 / month, and receive $1,500 worth of POS equipment / hardware for free
Q. Who are the typical users of Bindo POS?
Bindo POS has the following typical customers:
Self Employed, 2-10, 11-50, 51-200, 201-500, 501-1,000, 1,001-5,000
Q. What languages does Bindo POS support?
Bindo POS supports the following languages:
English, Traditional Chinese
Q. Does Bindo POS support mobile devices?
Bindo POS supports the following devices:
Android (Mobile), iPhone (Mobile), iPad (Mobile)
Q. What other apps does Bindo POS integrate with?
Bindo POS integrates with the following applications:
QuickBooks Online Advanced, Worldpay, Xero
Q. What level of support does Bindo POS offer?
Bindo POS offers the following support options:
Email/Help Desk, FAQs/Forum, Knowledge Base, Phone Support, 24/7 (Live rep), Chat
Related categories
See all software categories found for Bindo POS.